Looking For A Rochford Car Spares Shop?


If you are a resident of Rochford or its local areas, did you know that you have the number one car spares shop in Essex on your doorstep? 
If the answer is no, you will be glad that whatever you have typed into the internet today, has brought you to Car Spares Essex.
Car Spares Essex is the online route to Pound Lane Auto Discounts, which is just down the road from you and provide the biggest range of car spares and parts in the whole of Essex.
But hey, if you haven't heard of us before then let us tell you a little bit about us, and perhaps you will consider us for your motoring needs.
We aren't that far from Rochford after all!
What Services Can We Offer To All Our Essex Customers?
Well to start with we have a huge range of parts for all makes of vehicles that are driving around Essex today.
We have stock sitting on our shelves for the Fords, Vauxhalls and Renaults that most of us have had one time or another since we learnt to drive.
But that doesn't separate us from the crowd, or at least the other motor factors around Essex.
What does, is the ability to provide for the unusual vehicles that you might have sitting on your Rochford driveway today.
From classic cars, kit cars, and then even imported vehicles, we can supply the parts and accessories for the weird stuff.
And how do we do this?
Nothing more difficult than we have been in business since 1981, and so have built up an amazing network of colleagues, breakers and mechanics.
So if you are looking for something unusual than don't drive all over Essex, but instead give us a call from Rochford on 01268 728309 or complete our order form.
And we will jump into action and see if we can help you.
---
The Full List Of Makes That We Can supply Parts For
Infiniti
Iveco
Jaguar/Daimler
Jensen
Lamborghini
LDV
Ligier
Lotus
LTI
Mahindra
Marcos
Maserati
Maybach
MCW
Rolls Royce
Santana
Sao
Talbot
Tata
Tesla
Think
Triumph
TVR
UMM
Westfield
Noble
Perodua
Piaggio
---
I Want To Drive From Rochford...Whereabouts Are You?
We are a very quick drive down the A127 so shouldn't take you more than fifteen minutes drive.
If you drive down the A127 towards London, you will a left turn just past a garden centre near Basildon, called "Altons".
Turn left and the drive about a mile.
You will find us about a mile down on the right hand side.
And that is one of the brilliant things about us, and has allowed us to flourish over the last 30 years.
Even if we seem a long way from a place like Rochford, we are not as we are on the main routes through Essex.
It takes just as long to go to your local car spares shop.
And also we have plenty of free parking.
Just pull up and come and see us.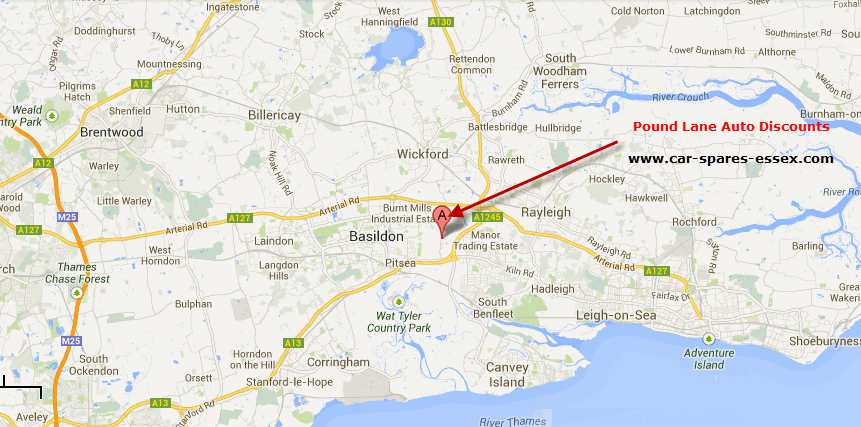 For Directions To Us From Rochford Then Click Here
---
Body & Trim

Mirrors

Roof Racks

Seat Belts

Tow Bars

Cables

Cable Fitment Parts

Cables

Brake

Accessories-Fit Kits

Drums

Shoes

Clutch

Clutch Parts

Flywheels

Fitting Parts

Switches

Sensors - Clutch

Cooling & Heating

Air Con Parts

Radiator Caps

Thermostats

Radiators

Heaters

Coolers

Switches

Sensors - Cooling & Heating

Water Hoses

Electrical

Aerials

Alarms

Horns

Immobilisers

Alternators

Dynamos

Drive Motors (Equipment)

Regulators

Relays

Solenoids

Starter Motors

Switches

Sensors - Body & Panel

Engine Parts

Belts, Chains

Breather Caps

Hoses

Valves

Dampers

Idlers

Pulleys

Tensioners

Engine Gaskets

Seals

Engine Parts

Exhausts

Exhaust Parts

Filters & Ignition

Ignition Leads

Ignition Parts

Flexible Mountings

Bushes

Mountings

Fitting Tools

Fitting Tools & Kits




Fuel & Engine Management

Carb Parts

Engine Management & Fuel Inj. Parts

Filler Caps

Fuel Tanks

Sender Units

Fuel Pumps

Hydraulics

Brake Hydraulics

Clutch Hydraulics

Fluid Reservoirs

Lighting

Bulbs

Light Units

Lubricants & Fluids

Brake Fluids

Coolant Fluids

Engine Oils

Grease

Other Fluids

Steering Fluids

Suspension Fluids

Transmission Oils

Publications

Workshop Manuals

Steering & Suspension

Air Suspension

Shock Absorbers

Springs

Steering & Susp. Components

Steering & Susp. Fitting Tools

Steering Boots

Racks

Steering Boxes

Pumps

Suspension Spheres

Service Parts

Belts, Chains

Ignition Parts

Transmission

CV Boots

Joints

Drive Shafts

Drive Couplings

Universal Joints

Gearboxes

Links

Rods

Wheel Bearing Kits

Wheel Bolts

Caps

Hubs, Nuts

Wipers

Wiper Arms

Blades

Wiper Gears

Linkage

Motors

Wiper Washer

Bottles

Jets

Pumps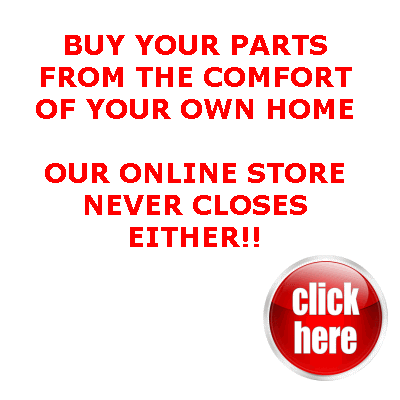 Home > Directions > Rochford
Return To Top Of Rochford