New Proton Parts & Spares From
Car Spares Essex
The Home Of The Proton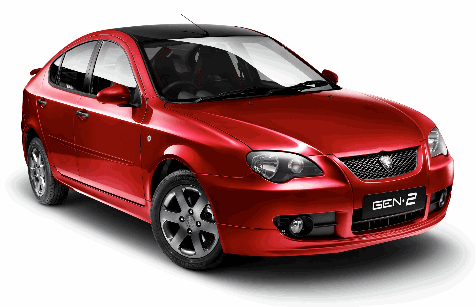 If you want new Proton parts and don't want to spend your life driving around Essex searching for a low cost option then stop!
Welcome to Pound Lane Auto Discounts the number one car spares shop in the whole of Essex.
We have built our name on providing the best range of not just Proton spares, but the whole spectrum of models and vehicles that you will see driving around the streets of Essex today.
But what kind of new Proton parts can we supply?
Well body panels, lights and mirrors are no problem.
Then there is the great range of exhausts, and clutch parts.
Whilst not forgetting oils, and service parts such as Oil and Air filters and brake pads and shoes.
You maybe thinking who are we though?
So let's give you some background information on not just the amazing range of Proton spares and parts that we have waiting on our shelves, but also on our business too.
And hopefully, by the time you have read a little bit about us you will consider becoming another one of our loyal customers.
Customers who visit us for the best Proton parts around.
From opening our doors way back in 1981, we have supplied not just parts for the Proton drivers of Essex, but car spares and accessories for all the vehicles that you can see driving around Essex today.

But what sets us apart, and brings our customers back time and time again (we're glad to say) is our three key areas of focus.
Great prices…. an amazing range of car parts and the best customer service around.
We know that we are only as good as our last customer, so we go out of our way to make buying parts for your Proton as pleasant an experience as we can.
The full range of models that we can supply Proton parts for is quite extensive as you can see below.
But the best thing is all of them have parts and accessories waiting to be ordered online for easy collection.
Our amazing on-line e-store contains over 150,000 parts at special low web prices.
Simply enter the registration of your Proton and let us do the rest.
---
So What Models Of Proton Can You Supply Parts For?

The list below shows the Proton models that we can presently supply parts for both from our in store stock and our online E-Store.
If you can't see your vehicle below then don't worry, still give us a call because our suppliers do keep on adding more parts to the stock they can supply us with on a daily basis.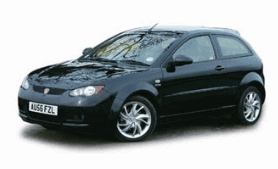 You can contact us on either 01268 729309 or by completing our easy to fill in order form.
But best of all check our prices and availability on our E-Store and if you then purchase the parts, you can then just drive down and collect from us.
The perfect Click & Collect system for all Proton drivers.
Proton 1.3 Parts
Proton 1.5 Parts
Proton Compact Parts
Proton Coupe Parts
Proton Gen 2 Parts
Proton Wira parts


Proton Impian Parts
Proton Jumbuck Parts
Proton Persona Parts
Proton Satria Parts
Proton Savvy Parts
---
Do You Deliver Any Of Your Proton Parts Across Essex?

I'm afraid to tell you that a delivery service is not available at the moment as we simply do not have the resource to do this.
Being a family run car shop, we have to focus all our energies on providing what our customers require most.
That is great service face to face, on the phone or dealing with the online orders that flood in.
So at the moment, no we do not offer a delivery service, but remember you can order online so the Proton parts you need will always be available for you when you arrive anyway. 
Ok This Sounds Ok So Whereabouts Are You?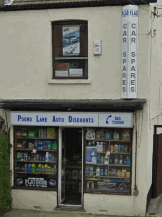 Pound Lane Auto Discounts are based just outside of Basildon in Essex.
And believe me we are super convenient to get to.
As you can see from the map below the three main routes through Essex literally go through us.
Jump on any of the A127, A13 and A130 and from anywhere in Essex you can get to us within twenty minutes or so.
And we are so glad of that fact, although we didn't realise how good this position was when we first opened.
But many of our customers come from along way to get to us....thank you very much!
So if you fancy using us check out our directions page here.
Or if you want to enter your postcode and get step by step driving instructions then simply click on the link below.
We look forward to seeing you soon.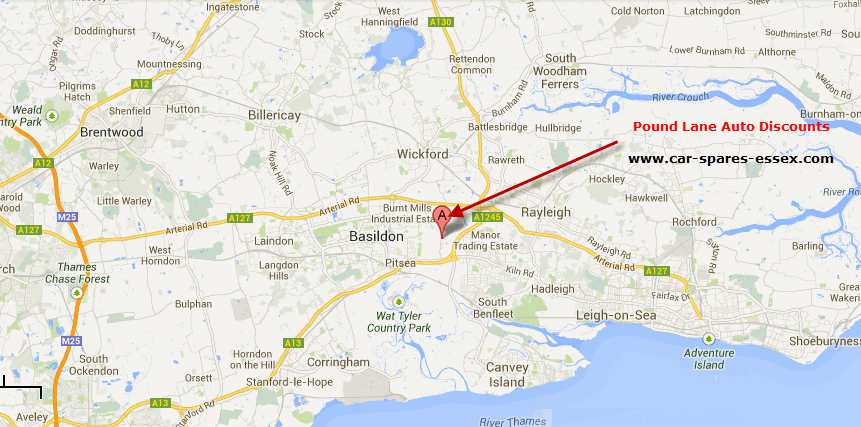 For Driving Instructions To Collect Your Proton Parts Enter Here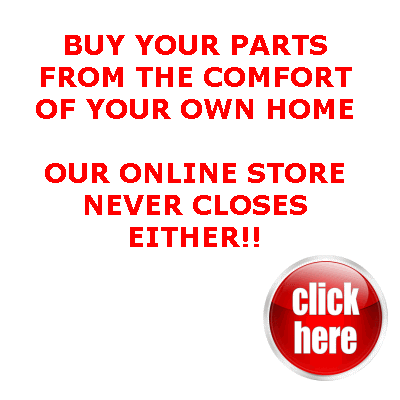 Home > Car Parts > Proton Parts
Return To Top Of Proton Parts