New Jeep Parts & Spares From
Car Spares Essex The Home Of Jeep
New Jeep parts do not have to be expensive, or difficult to buy.
Before you think of going to the Jeep main dealers for the part you are looking for come to Car Spares Essex.
Car Spares Essex is the online route to Pound Lane Auto Discounts near Basildon Essex.
We have a huge range of Jeep spares for all models sitting waiting on our shelves.
And when we say all models we really mean all, as we can go back to the earliest of Jeep makes and models.
Yes, I'm sure you think that we are simply talking about Jeep parts for Cherokee and Grand Cherokee, and the type of the models that you currently see driving around Essex and the UK.
But we have water pumps for Jeep Compass, Distributor caps for Jeep Patriots, and a wide range of other parts all in stock.
---
Just Some Of The Jeeps We Can Get Spares For!
These are just a few of the Jeeps that we can supply parts and supplies for.
Although this is an extensive list, it is not exhaustive and if your vehicle isn't listed below we can still make an effort at finding the Jeep parts that you are looking for.
Just contact us here and leave the rest to us 
Jeep Cherokee 2.5L
Jeep Cherokee 2.7L
Jeep Cherokee 3.0L
Jeep Cherokee 3.1L
Jeep Cherokee 4.0L
Jeep Cherokee 4.7L
Jeep Cherokee 5.2L
Jeep Cherokee 5.7L
Jeep Cherokee 5.9L
Jeep Cherokee 6.1L
Jeep Cherokee 6.4L
Jeep Commander 3.0L
Jeep Commander 5.7L
Jeep Compass 2.0L
Jeep Compass 2.1L
Jeep Compass 2.2L
Jeep Compass 2.4L
Jeep Wrangler 2.5L

Jeep Grand Cherokee 2.5L
Jeep Grand Cherokee 2.7L
Jeep Grand Cherokee 3.0L
Jeep Grand Cherokee 3.1L
Jeep Grand Cherokee 4.0L
Jeep Grand Cherokee 4.7L
Jeep Grand Cherokee 5.2L
Jeep Grand Cherokee 5.7L
Jeep Grand Cherokee 5.9L
Jeep Grand Cherokee 6.1L
Jeep Grand Cherokee 6.4L
Jeep Patriot 2.0L
Jeep Patriot 2.1L
Jeep Patriot 2.2L
Jeep Patriot 2.4L
Jeep Wrangler 2.8L
Jeep Wrangler 3.8L
Jeep Wrangler 4.0L
At the bottom of the page you will find the full list of Jeep Parts that we can supply here are Pound Lane Auto Discounts In Essex.
---
Right It Sounds Great, So How Can I Buy My Jeep parts From You Then?
Buying the parts for your jeep that you require from us, should simply mean picking up the phone and giving us a call on 01268 728309
And if you are too busy to make the call, or we are busy….and sometimes man those phones don't stop ringing, you can email your order and request for your Jeep part through to us that way too.
We will get it ready for you and then email or contact you back to advise you that it is ready for you to come and collect.
---
What Do You Do If You Don't Have The Jeep Parts I Want?
Well this is a very good question, and unlike many car shops in Essex and the South East, we are a family owned business, so rely on our happy customers.
So if we don't have the Jeep motor spares you want, exactly the same as all other models of vehicles that we can cater for, if we haven't got the part at the time of your visit which is unlikely, we will do everything we can to get it for you.
And this might mean the next day, or more often than not within a few hours.
So we will bend over backwards as much as possible to help you.
With a history in the industry stretching back over 25 years, we are in contact with all the Jeep manufactures that can supply us as a priority.
However I guess it if fair to say that sometimes we just won't be able to help provide your Jeep parts and its not something we have or can get.
But that shouldn't be a problem either as we have been around the Jeep parts and spares world for over 30 years, and so we can tell you where to go and get it.
You may not be our customer the first time you contact us, or the second, but we will do our best to make sure when you need some Jeep parts you at least think of Car Spares Essex aka Pound Lane Auto Discount first.
You know the best thing to do though, is simply use our online Order form, and we can buy it in ready for you to come and collect.
How easy is it that!
---
Where Is Car Spares Essex aka Pound Lane Discount Exactly?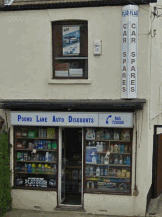 As we said at the very beginning of the page we are based just outside of Basildon in Essex, and are a short drive from all three of the main routes that crisscross the county (A127, A130 and the A13)
So wherever you are in the county or further afield…..and we are constantly amazed and grateful as to how far people drive to get their Jeep spares from us, it won't take you long.
And due to the fact as we said previously you can order the parts for your Jeep ready for collection, using us will probably save you time in the long run.
The perfect Pick Up facility for all Jeep spares (and anything else you fancy buying too!)
So either check out our direction page here, or click the link below the image for step by step driving instructions.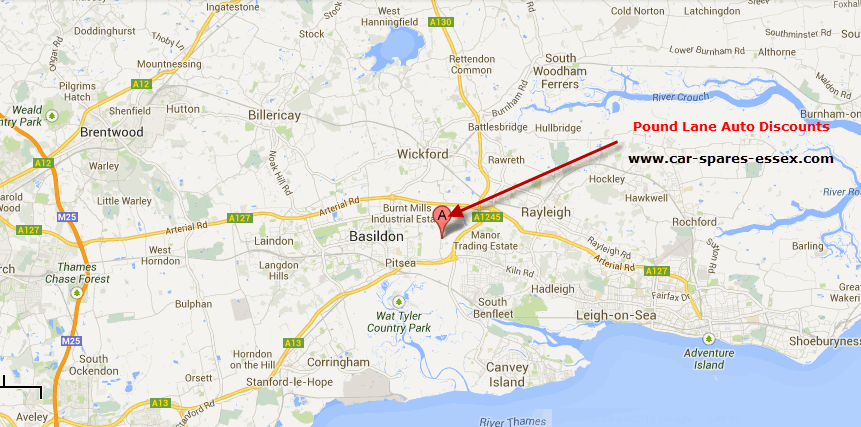 For The Best Jeep Parts In Essex At Car Spares Essex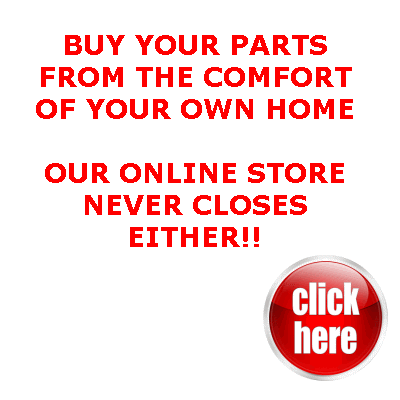 Home > Car Parts > Jeep Parts
Return To Top Of Jeep Parts