New Isuzu Parts & Accessories From Car Spares Essex The Home Of Isuzu Cars
If you are looking for low cost new Isuzu parts and spares, and are finding them difficult to locate you might just have found the answer to your problem.
Pound Lane Auto Discounts in Basildon have a huge range of car spares, parts and accessories for all type of vehicles.
---
Shop Online For The Best Prices And Availability Now!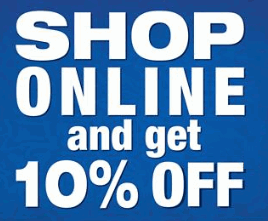 We have now made things easier for our customers with a new huge online store - Open 24 hours per day.
Whenever you see the "Shop Here Online" image, you then have access to over 150,000 parts, accessories, oil, tools, and valeting products, from our sister site shown below.
Get the best prices, availability and choices of car products from the comfort of your own home.
You will never leave once you go in!
---
And our Isuzu spares and parts range is expanding daily.
And even better the spares and items for each of the Isuzu models listed below are all available online too.
So no more phoning to query prices, or locating the item.
Just click on the "Shop Here Online" logo throughout the site and you will have access to the largest selection of Isuzu parts in the whole of Essex.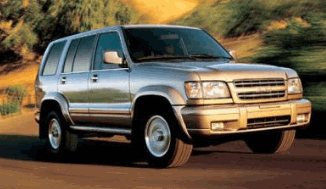 Pound Lane Auto Discounts are as we are known online "Car Spares Essex" have been supplying parts to the motorists of Essex since 1981.
So that is over 30 years of knowing the best places to go for those hard to find items for your Isuzu.
So if after checking on our online shop you still can't find what you want.
Then contact us on 01268 728309, or complete our simple order form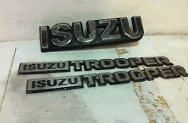 ---
The Full Range Of Isuzu Models We Can Supply For
Isuzu Big Horn Parts
Isuzu D-MAX Parts
Isuzu Fargo Parts
Isuzu Faster Parts
Isuzu Gemini Parts
Isuzu Grafter Parts
Isuzu Mu Parts

Isuzu Piazza Parts
Isuzu Rodeo Parts
Isuzu TF Parts
Isuzu Trooper Parts
Isuzu VehiCROSS Parts
Isuzu Wizard Parts

Isuzu NKR Parts
---
This Sounds Good So Where Are You Exactly?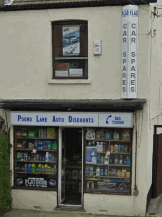 If you want to use us to purchase Isuzu parts and spares then we are in a supremely convenient location.
Based right in the centre of Essex, we are just outside of Basildon.
But don't think that you are going to have to drive in your Isuzu to a busy Town-Center.
Nothing is further from the truth.
As you can see from the image below, we are based a stones throw from all three of the main routes that cross Essex.
So jump on the A127, A130 or A13 and be with us in minutes.
Many of our customers come quite a distance, and say that its is quicker in the long run, as they can order their parts and then simply come and collect.
For details of how to collect your Isuzu parts you can click here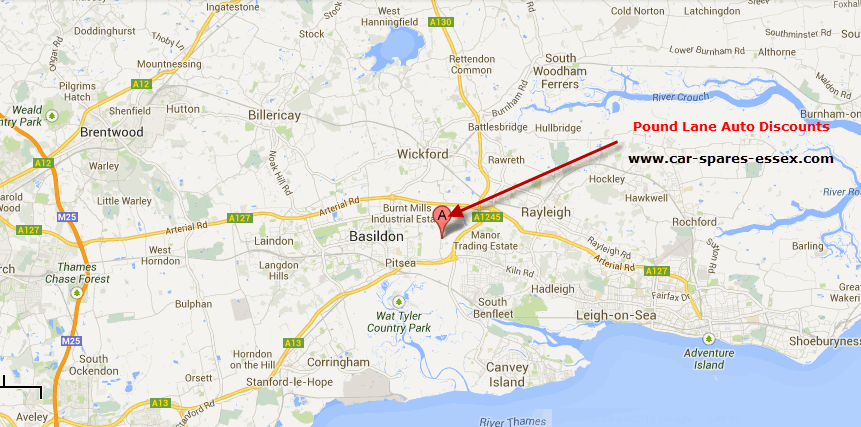 For Instructions How To Come And Buy Isuzu Parts Click Here
---
So Now We Know Where You Are What Isuzu Parts Can You Offer?
We have more and more parts becoming available everyday.
From clutches, to exhaust systems.
From service parts, such as oil, air and fuel filters, oils and spark plugs we can supply for most things.
The list below highlights the majority of items for the Isuzu that we can sell, but there are times that you will be better off going elsewhere.
For example sometimes its cheaper to get a part from a main dealer, or a breaker, or even one of our competitors.
And if that is the case we will tell you, as we don't just want you as a customer once, but instead for many years.
Body & Trim

Mirrors

Service Parts


Belts, Chains

Ignition Parts

Cooling & Heating

Air Con Parts

Radiator Caps

Thermostats

Radiators

Heaters

Coolers

Switches

Sensors - Cooling & Heating

Water Hoses

Clutch

Clutch Parts

Flywheels

Fitting Parts

Switches

Sensors - Clutch

Electrical

Aerials

Alarms

Horns

Immobilisers

Alternators

Dynamos

Drive Motors (Equipment)

Regulators

Relays

Solenoids

Starter Motors

Switches

Sensors - Body & Panel

Flexible Mountings

Bushes

Mountings

Wipers

Wiper Arms

Blades

Wiper Gears

Linkage

Motors

Wiper Washer

Bottles

Jets

Pumps

Hydraulics

Brake Hydraulics

Clutch Hydraulics

Fluid Reservoirs

Filters & Ignition

Ignition Leads

Ignition Parts

Lighting

Bulbs

Light Units

Cables

Cable Fitment Parts

Cables

Exhausts

Exhaust Parts

CV Boots


Joints

Drive Shafts

Drive Couplings

Universal Joints

Links


Rods

Wheel Bearing Kits

Wheel Bolts

Caps

Hubs, Nuts

Brake

Accessories-Fit Kits

Drums

Shoes

Steering & Suspension

Air Suspension

Shock Absorbers

Springs

Steering & Susp. Components

Steering & Susp. Fitting Tools

Steering Boots

Racks

Steering Boxes

Pumps

Suspension Spheres

Fitting Tools

Fitting Tools & Kits

Publications

Workshop Manuals

Fuel & Engine Management

Engine Management & Fuel Inj. Parts


Filler Caps

Fuel Tanks

Sender Units

Fuel Pumps

Engine Parts

Belts, Chains

Breather Caps

Hoses

Valves

Dampers

Idlers

Pulleys

Tensioners

Engine Gaskets

Seals

Engine Parts

Engine Oils

Grease

Other Fluids

Steering Fluids

Suspension Fluids

Transmission Oils

Lubricants & Fluids

Brake Fluids

Coolant Fluids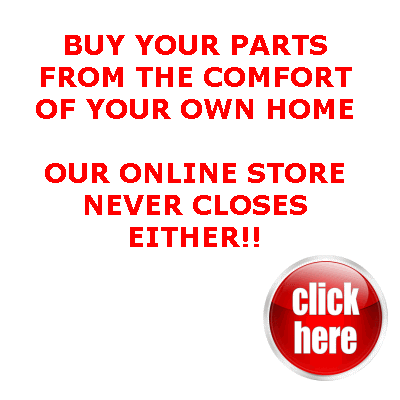 Home > Car Parts > Isuzu Parts
Return To Top Of Isuzu Parts