Hyundai Parts Near Me Means
Pound Lane Auto Discounts
The Home Of Hyundai Car Spares Essex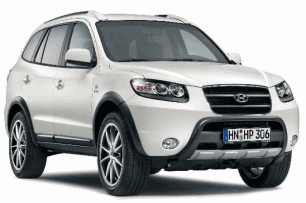 If you are Googling for "Hyundai Parts Near me" for quality and affordable new Hyundai parts then your search is now over.
Pound Lane Auto Discounts in Basildon, have been providing new Hyundai spares for over 30 years, and certainly know a thing or two about helping you keep your Hyundai on the road.
But what is it that makes us different from all the other car parts and motor factors around Essex today?
Why have we flourished over a quarter of a century whilst many businesses have unfortunately crumbled.
Let us let you into the secret of our success and hopefully you will consider buying your Hyundai parts from us, and join our ever expanding loyal band of customers.
---
What Does Hyundai Parts Near Me Really Offer Me?
We obviously are only as good as our last customer.
End of story.
So our mission to all of you is to provide the best range of spares and parts we can.
Keep the prices as low as we can.
And give you all the type of service that will make you wonder why you have been taking your Hyundai elsewhere.
Seems simple......we think so.
And it seems to be that our customer who have made us the number one car spares shop in Essex, think so too.
---
---
This Sounds Ok, What Models Of Hyundai Do you Sell Parts For?

The list below shows all the models that we can currently provide Hyundai parts for.
And as you can see its not just the most common of Hyundai models that we can cater for either.
If you check out our online store, not only will you be able to see the current availability of stock, but you can get an indication of our current prices too.
Don't worry however if your Hyundai parts are not shown, as you can still give us a call on 01268 728309 or complete our order form and we can check with our other suppliers what is available.
And believe me, you aren't around the Essex motor trade for over 30 years without knowing a thing or two about where to go for the more unusual of Hyundai parts and spares.
Hyundai Accent Parts

Hyundai Amica Parts

Hyundai Atoz Parts

Hyundai Coupe Parts

Hyundai Elantra Parts

Hyundai Getz Parts

Hyundai Grandeur Parts

Hyundai H100 Parts

Hyundai i10 Parts

Hyundai i20 Parts

Hyundai i40 Parts

Hyundai i800 Parts

Hyundai iLoad Parts

Hyundai ix35 Parts

Hyundai Lantra Parts

Hyundai Matrix Parts

Hyundai Pony Parts

Hyundai S Coupe Parts

Hyundai Santa Fe Parts

Hyundai Sonata Parts

Hyundai Stellar Parts   

Hyundai Trajet Parts

Hyundai Tucson Parts

Hyundai Veloster Parts

Hyundai XG Parts

Hyundai Terracan Parts

Hyundai ix20 Parts
---
Do you Deliver Hyundai Spares Around Essex?

Although we believe in providing the best service we can, this is one thing that we don't offer unfortunately.
Being an Essex based family business we only have the resource to focus our efforts on our phone, we fill that we would be letting them down if we suddenly were being pulled from pillar to post delivering our great Hyundai parts.
So no we don't deliver, but you can of course order online to ensure that the parts are always here waiting for you when you arrive.
---
Right I'm Going To Buy My Hyundai Parts From You..Where Are You?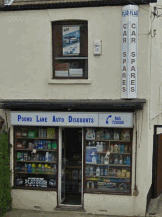 It doesn't matter where you are now in Essex, we are only about 20 minutes drive away from you.
Pound Lane Auto Discounts are based just outside of Basildon in Essex, and as you can see from the map below, we are conveniently placed next to the fastest roads in Essex.
It doesn't matter if you jump on the A130, A13 or A127, you will be brought literally to our doorstep.
And if you pre-order your Hyundai spares on our online store, we can guarantee that you will not have any wasted journeys at all.
For detailed driving instructions from your home, simply click the link below the image and enter your postcode into the field.
We hope to see you soon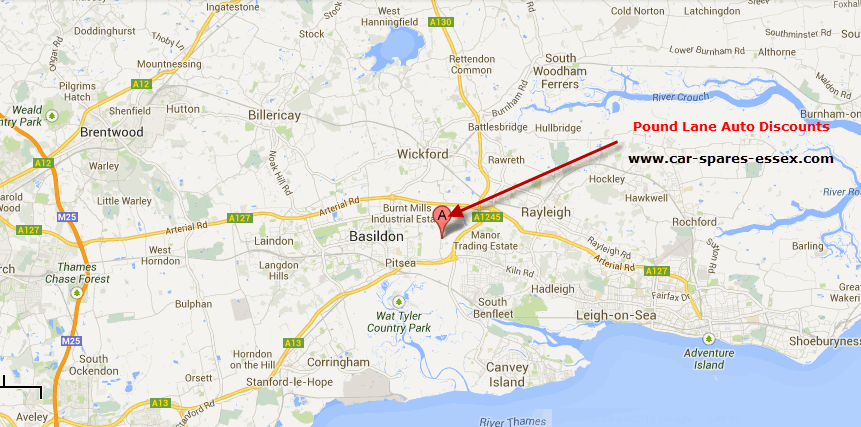 For Hyundai Parts Near Me From Pound Lane Auto Discounts Click Here
---
The Full List Of Hyundai Spares We Can Supply At Present
Body & Trim

Mirrors

Service Parts


Belts, Chains

Ignition Parts

Cooling & Heating

Air Con Parts

Radiator Caps

Thermostats

Radiators

Heaters

Coolers

Switches

Sensors - Cooling & Heating

Water Hoses

Clutch

Clutch Parts

Flywheels

Fitting Parts

Switches

Sensors - Clutch

Electrical

Aerials

Alarms

Horns

Immobilisers

Alternators

Dynamos

Drive Motors (Equipment)

Regulators

Relays

Solenoids

Starter Motors

Switches

Sensors - Body & Panel

Flexible Mountings

Bushes

Mountings

Wipers

Wiper Arms

Blades

Wiper Gears

Linkage

Motors

Wiper Washer

Bottles

Jets

Pumps

Hydraulics

Brake Hydraulics

Clutch Hydraulics

Fluid Reservoirs

Filters & Ignition

Ignition Leads

Ignition Parts

Lighting

Bulbs

Light Units

Cables

Cable Fitment Parts

Cables

Exhausts

Exhaust Parts

CV Boots


Joints

Drive Shafts

Drive Couplings

Universal Joints

Links


Rods

Wheel Bearing Kits

Wheel Bolts

Caps

Hubs, Nuts

Brake

Accessories-Fit Kits

Drums

Shoes

Steering & Suspension

Air Suspension

Shock Absorbers

Springs

Steering & Susp. Components

Steering & Susp. Fitting Tools

Steering Boots

Racks

Steering Boxes

Pumps

Suspension Spheres

Fitting Tools

Fitting Tools & Kits

Publications

Workshop Manuals

Fuel & Engine Management

Engine Management & Fuel Inj. Parts


Filler Caps

Fuel Tanks

Sender Units

Fuel Pumps

Engine Parts

Belts, Chains

Breather Caps

Hoses

Valves

Dampers

Idlers

Pulleys

Tensioners

Engine Gaskets

Seals

Engine Parts

Engine Oils

Grease

Other Fluids

Steering Fluids

Suspension Fluids

Transmission Oils

Lubricants & Fluids

Brake Fluids

Coolant Fluids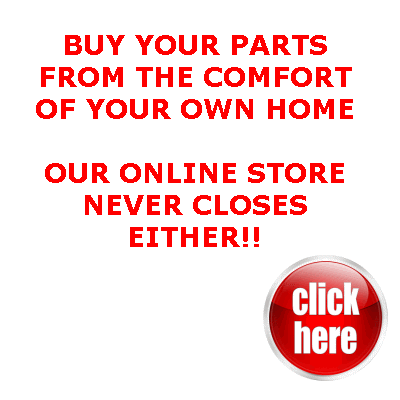 Home > Car Parts > Hyundai Parts Near Me
Return To Top Of Hyundai Parts Near Me