Discount Motor Spares
At Pound Lane Auto Discounts The Number One
Car Spares Shop In Essex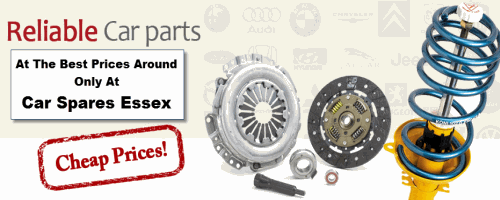 Discount motor spares are advertised everywhere you look.
Go online and they scream at you "Get your discount car parts here now" , "Discount car spares At Crazy Prices."
Open newspapers, emails or even turn on the telly, and sooner or later you will see something telling you that it is cheap, cheap, cheap.
They sound good, and they should sound good as they want to entice you to buy.
They want to make a sale.
Here at Car Spares Essex, the online route to the number one car parts shop in Essex: Pound Lane Auto Discounts, we of course want to make a sale.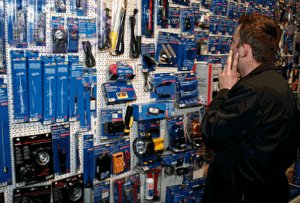 But we also want you to be delighted with our discount motor spares.
And even more than that, the service we can provide to you too.
As far as we are concerned there is absolutely no point in selling some discount car spares, if that is the last time we ever see you again.
We know that we are only as good as your last visit, and would love to be your discount motor spares retailer of choice in Essex and the South East for many years to come.
---
What If I decide To Buy A Brand Name Or A Specific Product?
Well don't worry about that as selling discount car spares is not the only thing that we are known for.
Remember we do sell brand names, and household names well known in the motor trade at discounted prices, so you shouldn't need to go more expensive.
However, if you decide that you want to forgo your urge to buy discount motor spares, we can also get much more expensive items as many of our customers demand.
A specific clutch or repair set, for those people rebuilding a car, or racing them is a common request.
So we do something crazy.
We go a little mad
We try to sell discounts car parts from quality makes.
We sell products of the highest quality we can, but still try to give you exactly what you want.
The lowest prices around.
An oil filter, brake pad, suspension mount, or anything else that you can trust and rely on at the lowest retail prices around.
Your safety is important to us after all, so we will not sell inferior products.
---
So What Range Of Discount Motor Spares Can You Provide?
The list at the very bottom of the page shows you the range of the discount motor spares that we can provide at Car Spares Essex.
From the latest Ford or Vauxhall to the Hummer and Classic Mini and then everything else in between, we have quite a range I promise you.
And even if you think your car might be difficult for us, such as an import for example then still give us a try.
You might just be pleasantly surprised.
And best of all if we don't have the discount motor spares that you are looking for at the time you contact us, then we can make arrangements to order it in for you so it is there when you visit us.
All you have to do is phone on 01268 728309 or use the order form by clicking here.
---
So Whereabouts Are You Then If I Decide To Travel To You?
We are situated in a really great location near Basildon in Essex.
And why is it so brilliant you might be asking? 
Well simply it is only 5 minutes from all of the big three roads that crisscross the county of Essex.
So from Barking to Chelmsford, it will only take you 20 minutes or so to get here on either the A13, A127 or A130.
And people travel from further distances than that to shop at Car Spares Essex for their discount motor parts, which we are so grateful for.
It is that loyalty that has kept us at the top for 30 years, and is something that we do not take for granted.
So use the link below to enter your home postcode and get driving instructions to our doorstep.
We hope to see you soon.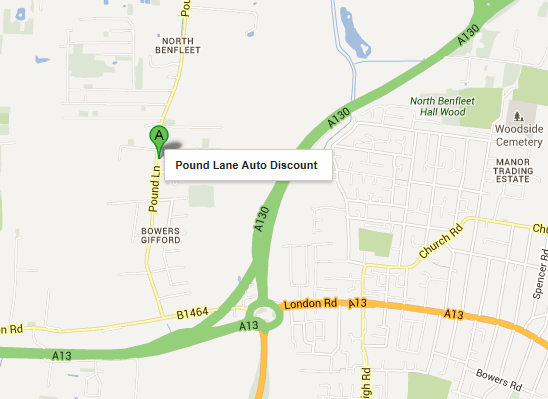 Get The Route To Car Spares Essex aka Pound Lane Auto Discounts
---
Our Full Range Of Products And Discount Car Spares
Body & Trim

Mirrors

Service Parts


Belts, Chains

Ignition Parts

Cooling & Heating

Air Con Parts

Radiator Caps

Thermostats

Radiators

Heaters

Coolers

Switches

Sensors - Cooling & Heating

Water Hoses

Clutch

Clutch Parts

Flywheels

Fitting Parts

Switches

Sensors - Clutch

Electrical

Aerials

Alarms

Horns

Immobilisers

Alternators

Dynamos

Drive Motors (Equipment)

Regulators

Relays

Solenoids

Starter Motors

Switches

Sensors - Body & Panel

Flexible Mountings

Bushes

Mountings

Wipers

Wiper Arms

Blades

Wiper Gears

Linkage

Motors

Wiper Washer

Bottles

Jets

Pumps

Hydraulics

Brake Hydraulics

Clutch Hydraulics

Fluid Reservoirs

Filters & Ignition

Ignition Leads

Ignition Parts

Lighting

Bulbs

Light Units

Cables

Cable Fitment Parts

Cables

Exhausts

Exhaust Parts

CV Boots


Joints

Drive Shafts

Drive Couplings

Universal Joints

Links


Rods

Wheel Bearing Kits

Wheel Bolts

Caps

Hubs, Nuts

Brake

Accessories-Fit Kits

Drums

Shoes

Steering & Suspension

Air Suspension

Shock Absorbers

Springs

Steering & Susp. Components

Steering & Susp. Fitting Tools

Steering Boots

Racks

Steering Boxes

Pumps

Suspension Spheres

Fitting Tools

Fitting Tools & Kits

Publications

Workshop Manuals

Fuel & Engine Management

Engine Management & Fuel Inj. Parts


Filler Caps

Fuel Tanks

Sender Units

Fuel Pumps

Engine Parts

Belts, Chains

Breather Caps

Hoses

Valves

Dampers

Idlers

Pulleys

Tensioners

Engine Gaskets

Seals

Engine Parts

Engine Oils

Grease

Other Fluids

Steering Fluids

Suspension Fluids

Transmission Oils

Lubricants & Fluids

Brake Fluids

Coolant Fluids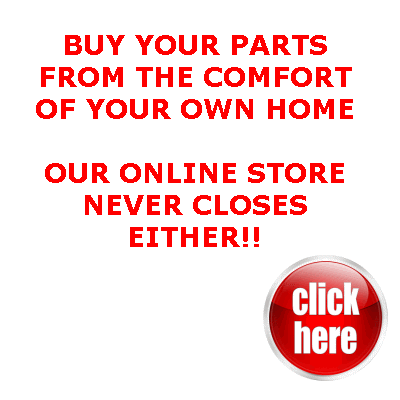 Home > Discount Motor Spares
Return To Top Of Discount Motor Spares