New Car Parts And Spares Available
Now At Car Spares Essex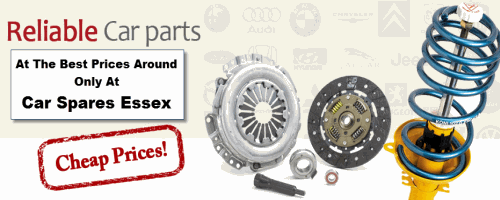 So many people spend hours looking for new car parts for their beloved vehicles.
They ask friends of places that they recommend.
They drive from shop to shop wasting a huge amount of time.
They then go back home and randomly key words into the web, desperate for that rare distributor cap or ignition barrel for their 1992 Vauxhall, whilst their partner sits around frustrated.
But buying car spares does not need to be like that.
Buying low cost, reliable parts can be the easiest thing you ever do.
Now you have found Pound Lane Auto Discounts in Basildon Essex, you not only have over 150,000 discount car parts waiting for you to buy and collect, but you can do everything from the comfort of your own home.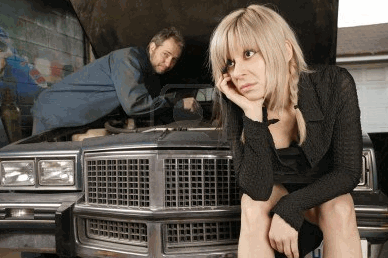 So the only time that you will be wasting time is when you open the fridge and crack open a beer.
You might have a few questions, if you have never heard of us before, so we will answer as many as possible on this page, and throughout the whole website.
And if you feel that you want more answers then simply give us a call, or contact us by clicking here.
---
What Vehicles Do You Sell Car Parts For?
We have a huge range of new and older car parts for all makes and models.
So whether you are looking for car spares for a Hummer, a Ford, or a Smart car we will have the item (or at least can get it quickly for you.)
The range below currently shows the entire makes of cars and commercial vehicles that we are selling parts and spares for.
Infiniti
Iveco
Jaguar/Daimler
Jensen
Lamborghini
LDV
Ligier
Lotus
LTI
Mahindra
Marcos
Maserati
Maybach
MCW
Rolls Royce
Santana
Sao
Talbot
Tata
Tesla
Think
Triumph
TVR
UMM
Westfield
Noble
Perodua
Piaggio
---
Can I Buy My Discount Car Parts Online?
Yes you can!!!
We are proud to say that we have just installed a great new E-store, that allows you to enter your car registration number into a field, and then wander through 10000's of car parts specifically for your vehicle.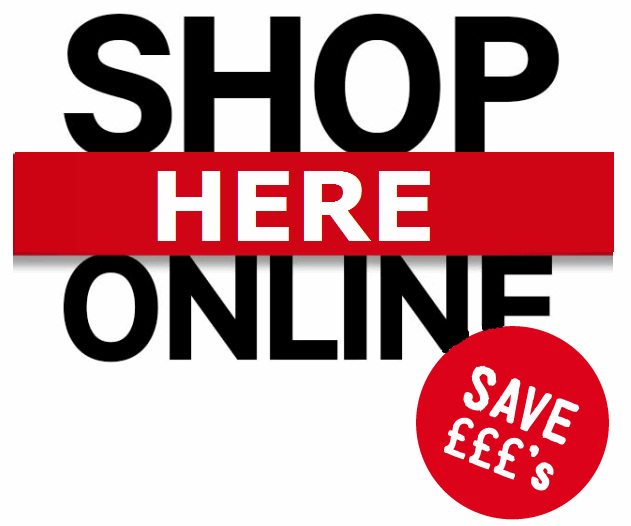 Select the car parts that you want to buy, drop them in your basket and head over to the checkout.
They will then be ready for collection not later than two days from pressing the order button.
Best of all, the system will tell you that the parts are in stock before you buy, so that can really put your mind at rest.
---
Where Are You Based?
Pound Lane Auto Discounts have been selling car parts from their Basildon base for the last 30 years.
And brilliantly for our customers, we couldn't be easier to get to.
Being just outside Basildon, we sit conveniently between the A130, A127 and A13, so wherever you are in Essex and the South East you will only be about 20 minutes at the most from collecting the best range of car parts, accessories and products available.
For more information as to how to get to us then simply click here.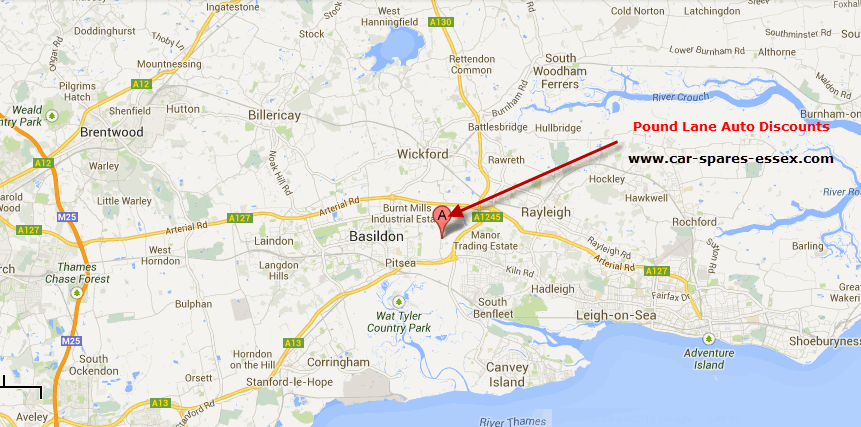 ---
Do You Deliver Around Essex?
No we do not deliver.
When you visit us as we hope you will, you will find that we are a simple family based business, who work hard at providing the best service we can ( as long as the best range of discount car parts at the best prices too).
So we do not have the capability to deliver parts directly to your door.
We need to be where our energies are best needed.
Helping our many customers to the pain free, easy motoring that they all want.
But as our customers have been finding for the last thirty years, we will do most things to make sure that the car spares you want are ready and waiting even if you can't find them on the E-store.
Just use our order form, and will look for the hard to find items, that you can't get elsewhere.
Then just phone us to find out how we got on.
Not door to door delivery, but certainly the next best thing.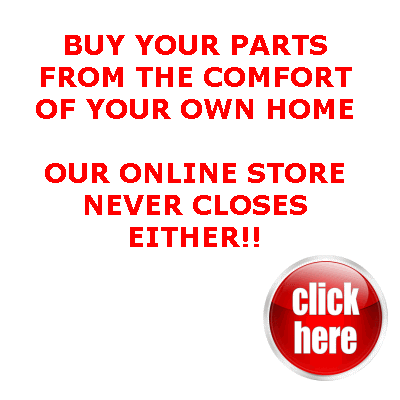 Home > Car Parts
Return To Top Of Car Parts