Lexus SC 430 Parts And Spares From Car Spares Essex The Discount Home Of Lexus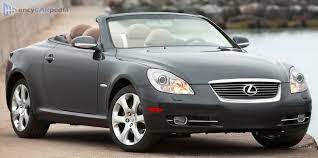 New Lexus SC 430 parts do not have to be expensive, or difficult to buy.
Before you think of going to the Lexus main dealers for the part you are looking for come to Car Spares Essex.
We hope that we will be exactly what you have been looking for.
Car Spares Essex is the online route to Pound Lane Auto Discounts near Basildon Essex.
We have a huge range of Lexus items for all Lexus models sitting waiting on our shelves.
And when we say all models we really mean all, as we can go back to the earliest of Lexus models.
Which is great for customers restoring cars, or trying to get one of the older Lexus models back on the road fast.
We have water pumps for Lexus SC 430, spark plugs for the Lexus RX450, and wipers for the Lexus LFA to name just a few.
Really we could spend the whole of the page listing what we can supply for the Lexus, but that would just be a waste of time.
The best thing to do would be to either contact us on 01268 728309 or pop into our premises to see what we are all about.
---
A Few Of The Other Lexus Models We Supply Spares For

| | | |
| --- | --- | --- |
| Lexus GS430 | Lexus LS 600 | Lexus LFA |
These are just a few of the Lexus models that we can supply parts and supplies for.
Although this is an extensive list, it is not exhaustive and if your vehicle isn't listed below we can still make an effort at finding the Lexus parts that you are looking for.
Just contact us here and leave the rest to us
Lexus CT200 Parts
Lexus GS250 Parts
Lexus GS300 Parts
Lexus GS430 Parts
Lexus GS450 Parts
Lexus GS460 Parts  
Lexus IS300 Parts
Lexus IS-F Parts
Lexus LFA Parts
Lexus LS400 Parts
Lexus LS430 Parts

Lexus RX300 Parts
Lexus RX350 Parts
Lexus RX400 Parts
Lexus RX450 Parts
Lexus SC250 Parts
Lexus SC300 Parts
Lexus SC400 Parts
Lexus SC430 Parts
Lexus LS460 Parts
Lexus LS600 Parts
At the bottom of the page you will find the full list of Lexus parts that we can supply here at Pound Lane Auto Discounts in Essex.
---
How Can I Buy My Lexus SC 430 Spares From You Then?

Buying the spares for your Lexus spares, should simply mean picking up the phone and giving us a call on 01268 728309

And if you are too busy to make the call, or we are busy….and sometimes man those phones don't stop ringing, you can email your order and request for your Lexus parts through to us that way too.
We will get it ready for you and then email or contact you back to advise you that it is ready for you to come and collect.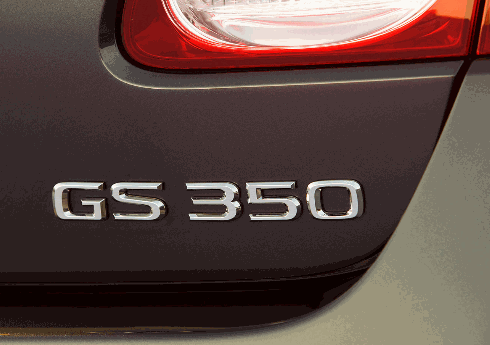 What Do You Do If You Don't Have The Lexus Parts I Want?

Well this is a very good question, and unlike many car shops in Essex and the South East, we are a family owned business, so rely on our happy customers.

So if we don't have the Lexus motor spares you want, exactly the same as all other models of vehicles that we can cater for, if we haven't got the part at the time of your visit which is unlikely, we will do everything we can to get it for you.
And this might mean the next day, or more often than not within a few hours.
So we will bend over backwards as much as possible to help you.
We will just need a bit of help straitening back up though….not as young as we used to be after all.
With a history in the industry stretching back over 25 years, we are in contact with all the Lexus manufactures that can supply us as a priority.
However I guess it is fair to say that sometimes we just won't be able to help provide your Lexus parts such as a brake cable for your 1991 Lexus SC400 (I think we have one of those actually….but we are making a point here), and its not something we have or can get.
But still we try our best to contact our friends to see what we can do.
---
Right I Want To Use You For My Lexus Spares....Where Are You?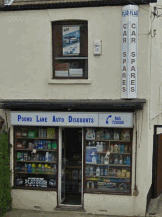 One thing for sure Pound Lane Auto Discounts are amazingly easy and convenient to reach from wherever you are in Essex.
Which is one of the main reasons why we have become the number one car spares and parts shop in the whole of Essex.
And the reason for this is as you can see from the map below, the A127, A13 and A130 literally go through our premises.
So added to the fact that we have plenty of free parking outside, you can zip from anywhere in Essex to pick up your Lexus SC 430 parts and spares within 20 minutes tops.
Which is the very reason that we have so many customers from across the whole of Essex. 
For more details on how to get to us, you can check out our directions page here.
Or if you want to simply enter your postcode to get detailed step by step instructions then use the link below the image.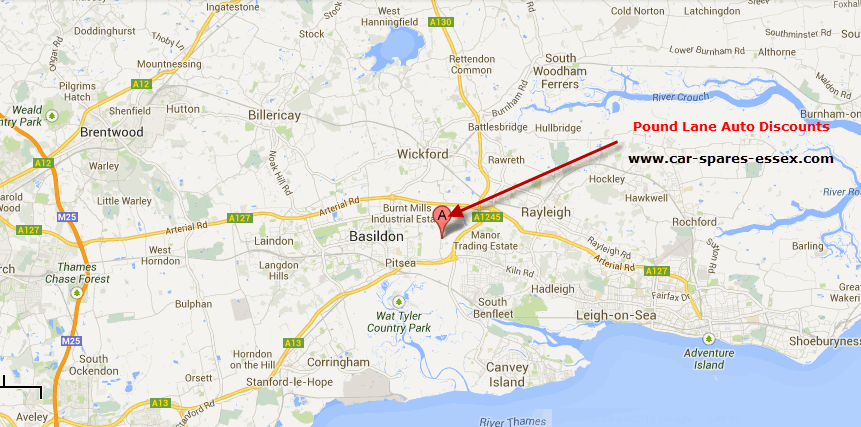 Get Driving Instructions To Collect Your Lexus SC 430 Parts Here
---
The Full Range Of Lexus Spares And Parts

Body & Trim

Mirrors

Service Parts


Belts, Chains

Ignition Parts

Cooling & Heating

Air Con Parts

Radiator Caps

Thermostats

Radiators

Heaters

Coolers

Switches

Sensors - Cooling & Heating

Water Hoses

Clutch

Clutch Parts

Flywheels

Fitting Parts

Switches

Sensors - Clutch

Electrical

Aerials

Alarms

Horns

Immobilisers

Alternators

Dynamos

Drive Motors (Equipment)

Regulators

Relays

Solenoids

Starter Motors

Switches

Sensors - Body & Panel

Flexible Mountings

Bushes

Mountings

Wipers

Wiper Arms

Blades

Wiper Gears

Linkage

Motors

Wiper Washer

Bottles

Jets

Pumps

Hydraulics

Brake Hydraulics

Clutch Hydraulics

Fluid Reservoirs

Filters & Ignition

Ignition Leads

Ignition Parts

Lighting

Bulbs

Light Units

Cables

Cable Fitment Parts

Cables

Exhausts

Exhaust Parts

CV Boots


Joints

Drive Shafts

Drive Couplings

Universal Joints

Links


Rods

Wheel Bearing Kits

Wheel Bolts

Caps

Hubs, Nuts

Brake

Accessories-Fit Kits

Drums

Shoes

Steering & Suspension

Air Suspension

Shock Absorbers

Springs

Steering & Susp. Components

Steering & Susp. Fitting Tools

Steering Boots

Racks

Steering Boxes

Pumps

Suspension Spheres

Fitting Tools

Fitting Tools & Kits

Publications

Workshop Manuals

Fuel & Engine Management

Engine Management & Fuel Inj. Parts


Filler Caps

Fuel Tanks

Sender Units

Fuel Pumps

Engine Parts

Belts, Chains

Breather Caps

Hoses

Valves

Dampers

Idlers

Pulleys

Tensioners

Engine Gaskets

Seals

Engine Parts

Engine Oils

Grease

Other Fluids

Steering Fluids

Suspension Fluids

Transmission Oils

Lubricants & Fluids

Brake Fluids

Coolant Fluids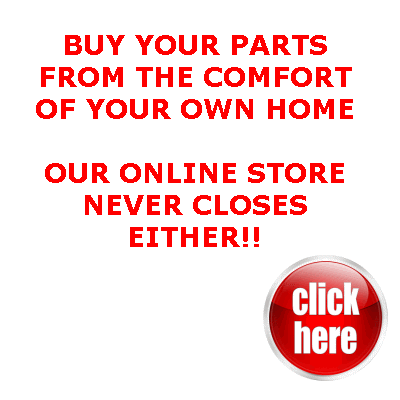 Home > Car Parts > Lexus SC 430