Dacia Parts & Spares Available
From Car Spares Essex
New Dacia parts are being bought more and more throughout the car shops of Essex, which isn't really a surprise.
Such are the great prices of new models in the Dacia range, customers are literally flocking to buy these affordable cars.
Which quite simply means that here at Pound Lane Auto Discounts or Car Spares Essex as we are known online we have needed to stock more and more items for you car.
And that is exactly what we have done..
So stop Googling "Dacia car parts near me" and simply come down and see us.

---
The Range Of Dacia Models We Can Cater For

You can see below the full list of Dacia models that we can cater for as of the time of writing.
But we are adding more and more Dacia models to our stock of parts and spares as soon as they role off the Romanian car manufacturers conveyer belt.

Although you maybe surprised to know that they are know under the protective wing of Renault.
Check online at our brilliant E-Store you can see advertised at the top of the page, or anywhere you see the "Shop Here Online" advert throughout the site.
And if you still can't find the Dacia parts and spares for your Dacia model then simply give us a call on 01268 728309, and we will see what we can do for you.
Dacia Duster 1.5L

Dacia Logan 0.9L

Dacia Logan 1.1L

Dacia Logan 1.2L

Dacia Sandero 0.9L

Dacia Sandero 1.1L

Dacia Sandero 1.5L

Dacia Shifter 1.4L

Dacia Denem 1.3L
---
What About If You Don't Have The Dacia Parts That I Want?

We have a huge range of Dacia Spares and Service parts, sitting on our shelves ready to go, from Air filters, to Brake Pads, from Clutch Kits to Water Pumps.
Everything that you would want to service your Dacia is not only easily accessible through us, but also at the best prices that we can offer.
But there are times that we won't be able to help you.
At least not from the Dacia stock we have.
But we have been around the motor trade of Essex since 1981, and so I guess it's fair to say that you aren't around that long without building up a huge network of helpers.
From breakers, to mechanics, from competitors to friends we have connections that can help us help you find the parts for your Dacia.
Once again just contact us on 01268 728309 so we can see if we can help you.
---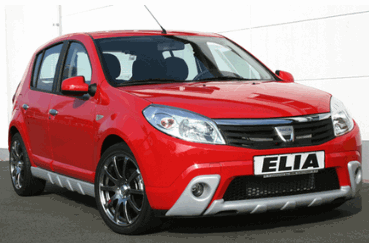 What Dacia Parts Can You Supply Then?

Below is the list of items and products that we can supply for most vehicles, not just for the Dacia.

In order not to make this page two miles long, we will simply say that some of them we will have in stock when you call, but others we will have to order in for you.
That won't take too long, and most of the time we will have the spares within a couple of hours, but sometimes it maybe a day or two.
However, if we are unable to locate them, we will advise you quickly in order for you to try elsewhere.
Which is what a quick search for "Car parts shop near me" should do for you.
So let us do the work for you, and hopefully you will come back to us again and again and again.
The Full Range Of Parts and Spares For The Dacia

Body & Trim

Mirrors

Service Parts


Belts, Chains

Ignition Parts

Cooling & Heating

Air Con Parts

Radiator Caps

Thermostats

Radiators

Heaters

Coolers

Switches

Sensors - Cooling & Heating

Water Hoses

Clutch

Clutch Parts

Flywheels

Fitting Parts

Switches

Sensors - Clutch

Electrical

Aerials

Alarms

Horns

Immobilisers

Alternators

Dynamos

Drive Motors (Equipment)

Regulators

Relays

Solenoids

Starter Motors

Switches

Sensors - Body & Panel

Flexible Mountings

Bushes

Mountings

Wipers

Wiper Arms

Blades

Wiper Gears

Linkage

Motors

Wiper Washer

Bottles

Jets

Pumps

Hydraulics

Brake Hydraulics

Clutch Hydraulics

Fluid Reservoirs

Filters & Ignition

Ignition Leads

Ignition Parts

Lighting

Bulbs

Light Units

Cables

Cable Fitment Parts

Cables

Exhausts

Exhaust Parts

CV Boots


Joints

Drive Shafts

Drive Couplings

Universal Joints

Links


Rods

Wheel Bearing Kits

Wheel Bolts

Caps

Hubs, Nuts

Brake

Accessories-Fit Kits

Drums

Shoes

Steering & Suspension

Air Suspension

Shock Absorbers

Springs

Steering & Susp. Components

Steering & Susp. Fitting Tools

Steering Boots

Racks

Steering Boxes

Pumps

Suspension Spheres

Fitting Tools

Fitting Tools & Kits

Publications

Workshop Manuals

Fuel & Engine Management

Engine Management & Fuel Inj. Parts


Filler Caps

Fuel Tanks

Sender Units

Fuel Pumps

Engine Parts

Belts, Chains

Breather Caps

Hoses

Valves

Dampers

Idlers

Pulleys

Tensioners

Engine Gaskets

Seals

Engine Parts

Engine Oils

Grease

Other Fluids

Steering Fluids

Suspension Fluids

Transmission Oils

Lubricants & Fluids

Brake Fluids

Coolant Fluids
---
Right I Want To Use You For My Dacia Parts...Whereabouts Are You?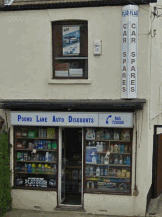 Car Spares Essex is the online route to Pound Lane Auto Discount which is based in Basildon Essex.
Actually we are on the outskirts nearer to Bowers Gifford and Pitsea, but no one has ever heard of these places, so we state: Basildon.
We are really easy to get to as we are situated just a five minute drive from anyone of the three main routes that transport traffic around the county of Essex.
So just drive down the A127, A130 or the A13 and you will get to us. quickly
For more details on where we are check out our directions page.
For detailed driving instructions to the home of Dacia spares, parts and accessories then simply click the link below and enter your home postcode into the field.
And we will see you within twenty minutes or so.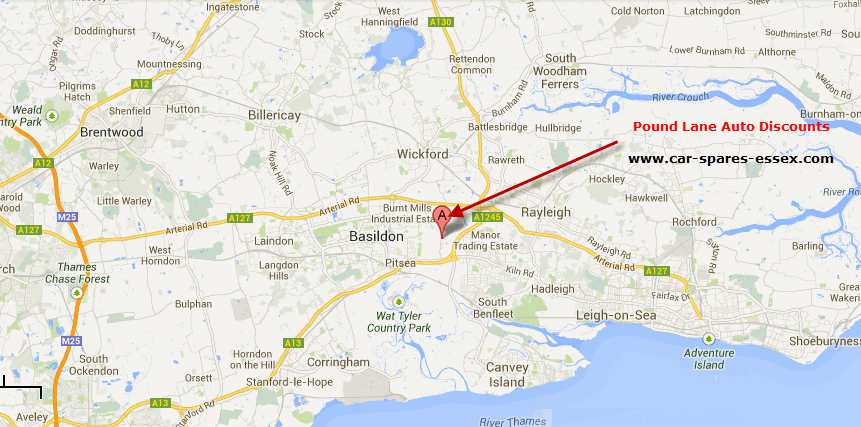 Driving Instructions For Dacia Parts At Car Spares Essex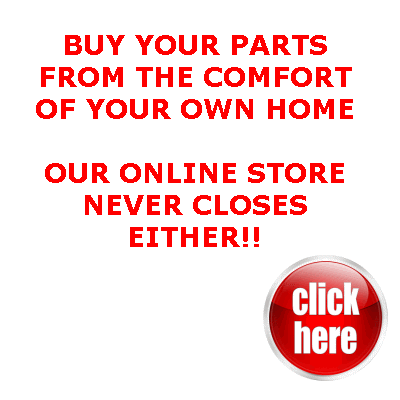 Home > Car Parts > Dacia Parts
Return To Top Of Dacia Parts